Redmustard believes that a correct procedure increases the efficiency of the studio and helps to create a better body of work which enhances our reputation and our clients expectations.
Project initiation and assessment

• Review sub-contractors work for compliance with design intent
• Review artwork, samples and scope to cost comparison
• Conduct inspection at printer
• Provide advice on installation and operation.
Research and Collaboration
• Set up and coordination of program with other consultants
• Review designs and develop revisions
This is the key to developing design solutions. During this stage, the scope of work, problems and criteria are determined. The thoroughness of this stage determines the appropriateness and success of the solutions. Tasks involved:
1. Meet with the client to determine and verify the desired image and address concerns, objectives and contents.
2. Review previously used Logos and Images (if applicable) with the client to determine what is felt to be important and appropriate in terms of the overall style and direction.
3. Discuss effectiveness of previous materials and examine strengths and weaknesses.
4. Review budget to ensure that it is adequate for the project as outlined.
5. Develop proposed production schedule with appropriate time allotments for client review.
6. Review, if necessary, investigative findings to this point with the client.



This stage is when potential solutions are conceived and developed based upon information from the first stage. At the conclusion of this stage, the final designs are complete and have to be reviewed and approved by the client.
1. Develop overall conceptual approach and design.
2. Prepare conceptual sketches depicting content and composition of the pieces, pictorial elements, colours, typographic elements and overall layout and design.
3. Review concepts with client to ensure the direction of the project and develop and refine as necessary.
4. Review final concepts with the client
5. Make any/all refinements to Image based upon client review
Adequate documentation is at the core of a smooth process, Redmustard has developed a process that ensures the smooth running of a wayfinding process. Our scheduling and cataloguing system enables a client or contractor to easily understand signage variants and their construction.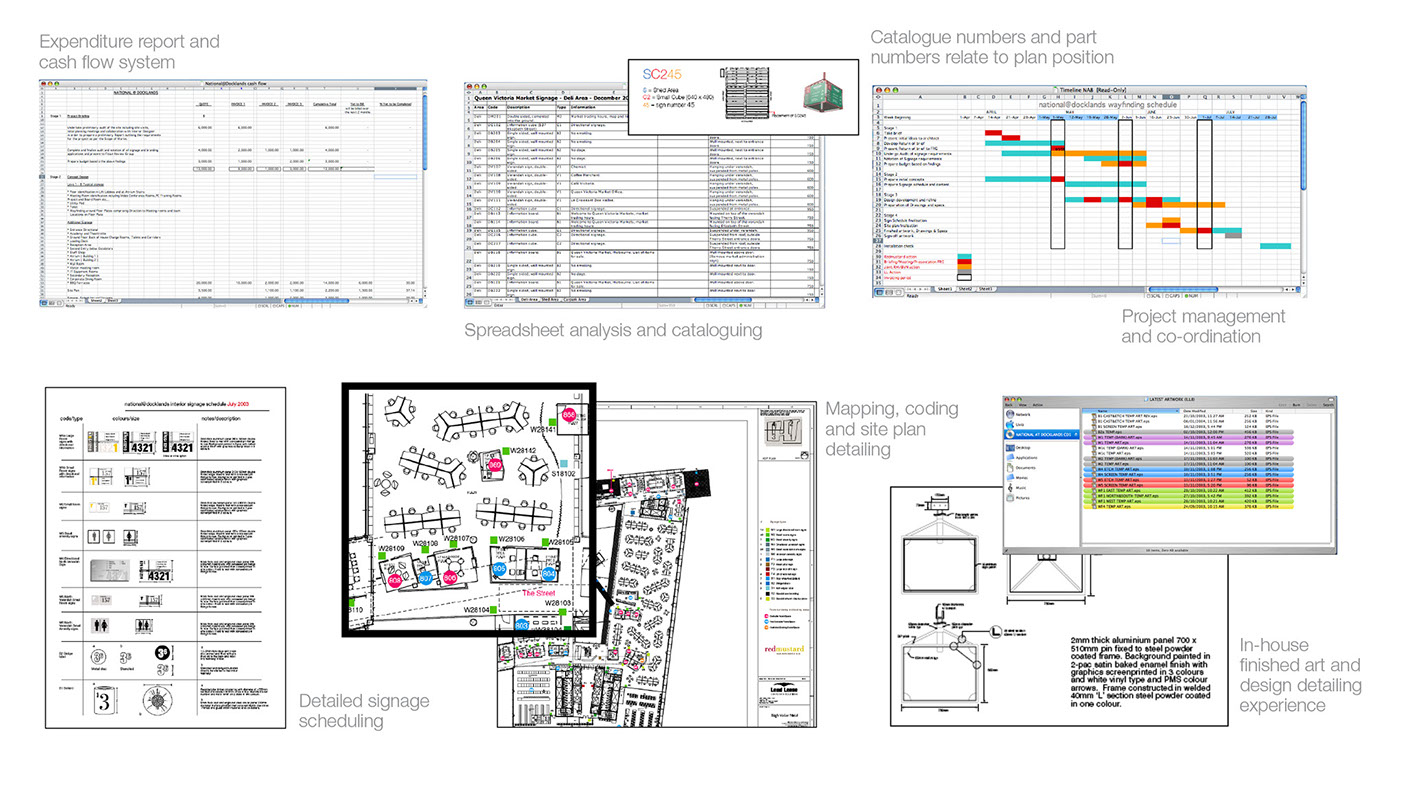 we think and talk in pictures
redmustard graphic communication
we did this, so we own it © 2015